Typefaces Available and Coming Soon
The 1403 Vintage Mono Pro typeface was inspired by the IBM 1403 mainframe line printer. This all uppercase, monospaced font was recently expanded to include additional scripts beyond a nearly full complement of Latin. It now supports Cyrillic, Greek, Hebrew, and Vietnamese! This font is available for purchase. Check out the interactive specimen site designed with Kenneth Ormandy.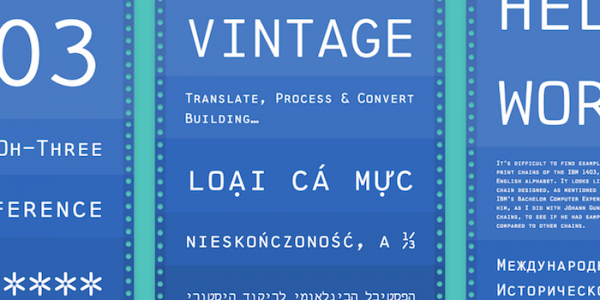 "I may steal that…you may see that again."—Matthew Carter, in reference to a glyph design in 1403 Vintage Mono Pro.
---
The 1403 Vintage Mono Limited typeface is a subset of the Pro version. It includes a basic complement of the Latin script.

---
Early preview of one of the music notation typeface designs in progress, shown at NAMM 2018: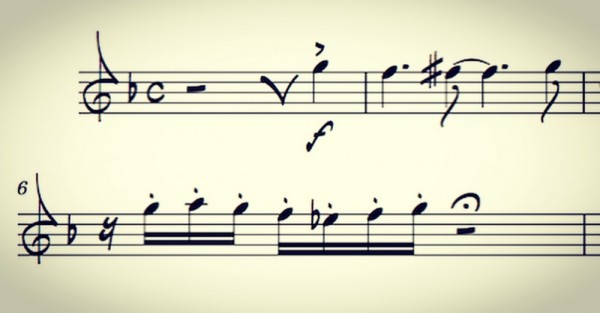 ---
Very early preview of 1403 Hebrew Sans (in-progress, available soon):


---
And, in time, a simple surprise, coming soon.
---
Conference Presentations
Resurrecting Type of the IBM 1403
A random query, idly wondered aloud by a friend, sparked the creation of a typeface inspired by the 1960s era IBM 1403 mainframe line printer. A weekend side project to create 52 glyphs reminiscent of the A and H printer chains turned into a full-blown, uppercase, monospaced typeface supporting most languages using the Latin alphabet (including Vietnamese), Cyrillic, Greek, and Hebrew. The IBM 1403 was a workhorse, quite popular, used throughout the 1960s and 1970s on everything from bills and checks to library card/book catalogs to automobile service parts identification labels. One of the first high speed, quality, line printers, the IBM 1403 is an interesting piece of technology, using replaceable chains (including the individual metal slugs on a chain). This presentation will provide an overview of the technology and show historical samples along with the resulting typeface. TypeCon 2013, Portland, Oregon, USA, August 2013
Hackers Conference 29 (invitation), USA, November 2013